– Couples have been urged to be faithful to their marriage vows
– The admonition was given by Sheikh Nurudeen Alfa-Nla
– According to him, many marriages fail because of lack of commitment
PAY ATTENTION: Click "See First" under the "Following" tab to see Legit.ng News on your Facebook News Feed!
An Islamic cleric, Sheikh Nurudeen Alfa-Nla, has advised couples to always keep to their marriage vows to check unwarranted marital difficulties.
Alfa-Nla, who is the Chief Imam of Opeleyeru Central Mosque, Ifaki-Ekiti, Ekiti, said many marriages had suffered separation and other challenges due to lack of commitment to marital responsibilities among couples.
According to her, both the wife and husband have separate responsibilities, adding that problems often start when one or both parties fail in such obligations.
Alfa-Nla said many parents had neglected their parental responsibilities and marriage demands as it related to equipping their children with good morals and discipline.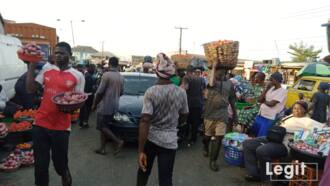 Coronavirus: Traders reveal hike in cost of food items as Easter beckons
"Most marriages, from experience, are usually conceived through love, trust and affection between both parties followed by acceptance and blessing of their parents.
"But regrettably some of these marriages today hardly survive the first year due to the failure of either one or both parties involved.
"The end product of such development, especially when children are already involved, could have negative consequences for the society.
" That is why today we have children of broken homes roaming the streets endlessly, while some involve themselves in armed robbery, banditry, kidnappings, drug abuse and other illicit acts," he said.
The Islamic cleric also advised couples to always allow themselves to be guided by the word of God and its commandments to achieve a lasting marital affairs.
"Whether Muslims or Christians, couples should allow themselves be guided by them holy scriptures – Quran and Bible – for an enduring marital life.
"Even when there are difficulties, they will know the right step to take in order to salvage their relationship for the better," he said.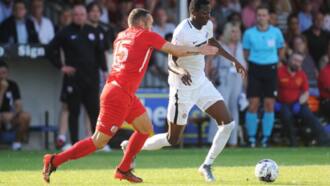 Nigerian striker scores 2 goals to help top European club stretch their unbeaten run to 9 games
Alfa-Nla urged religious leaders to be alive to their responsibility of teaching and preaching the word of God in their sermons to achieve a decent and society devoid of rancour, hatred and acrimony.
Alama Mbonge Lusu is still struggling to find beauty in life after experiencing so much ugliness while she was young.
The mother-of-two is a single mum and tries to focus on raising her girls as she stays away from relationships for the time being.
Legit.ng had also reported that while it is common to see pastors with failed marriages still carrying on with their pastoral duties, it appears not every clergyman subscribes to this.
A Nigerian pastor identified as Mekaowulu Izuchukwu on Sunday, August 23, took to the Facebook platform to share his thoughts about divorced pastors who remarry.
According to him, such men have no business being on the pulpit of God as God's work begins in the home.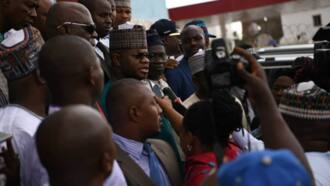 Kogi guber: Huge number of APC aspirants is due to my efforts, says Gov Bello
There is no rosy marriage – Zack Orji shares reasons why many marriages end in divorce | Legit TV