Nigeria is a great centre for tourism because there are many places in the country that will amaze any person visiting them for the first time.
The interesting thing about these tourist-attention-grabbers is that their sights do not stop intriguing even an old visitor.
Below are, therefore, seven places that are worth visiting in Nigeria.
1. Almat Farms, Abuja
This place is a nature's palace as its lush and dense greens create a healthy environment that is soothing to the eyes.
The farm has the features of a pastoral setting like wheelbarrows. Even the houses on the farm are creatively built like huts.
2. Obudu Cattle Ranch
The beautiful ranch located in Cross River once played a host to a popular reality TV show, Guilder Ultimate Search.
It is on a plateau and the ranch has lovely weather conditions that are very much peculiar to the place.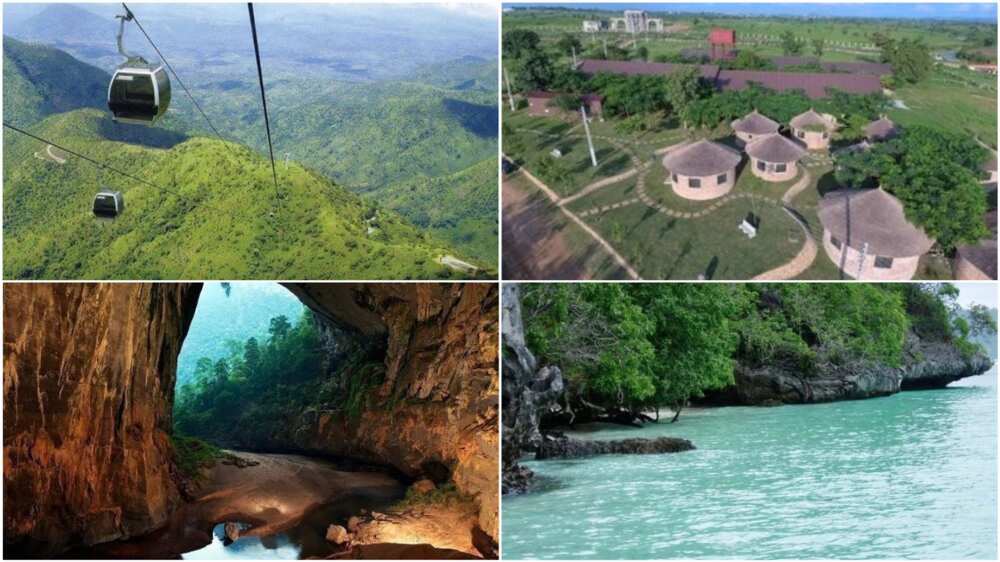 3. Azumini River in Abia State
This is another great destination for anyone who really wants to be close to the ambient environment of nature.
The river has an azure blue look. It is said that whenever it rains, the colour of the river becomes green.
4. Tarkwa Bay
For anyone wanting to take the edge off a busy week, Takwa Bay is a nice place to do so. Located at Fiki, Victoria Island, it can be reached via a boat.
Ever wondered how it feels to own your own island? On a day when the place is not busy, you could feel the sense of control and calmness that comes with having one.
5. Crush Rock, Mpape Abuja
This is a very cool spot for fun-seekers. It is a great choice for a place to unwind with family and friends. The rock rocky cliffs give a good aerial view of the river between them.
BBC reports that the place was one once a quarry that supplied the city stones for many years. It was described as an ideal picnic location.
6. Yusufari in Yobe State
The sandy nature of the location gives one a feeling of being in a lovely desert. A viral picture of the place shows a calm river lined with palm trees at its shore.
7. Ogbunike Caves
Ogbunike Caves in Anambra state are a collection of beautiful caves that are connected by tunnels and passageways. Its beautiful sight makes it another wonderful place to explore in the country.
Meanwhile, Legit.ng earlier reported that late Alhaji Mai Deribe, arguably one of the richest Nigerian men in the 80s, built a house made from a mixture of liquid gold and owned a customized Gulfstream G550 private jet.
He was one of the 12 people to own that type of aircraft in the world. The house played host to many world leaders like Prince Charles and his late wife, Princess Diana.
What's special about being a Nigerian? | Legit TV