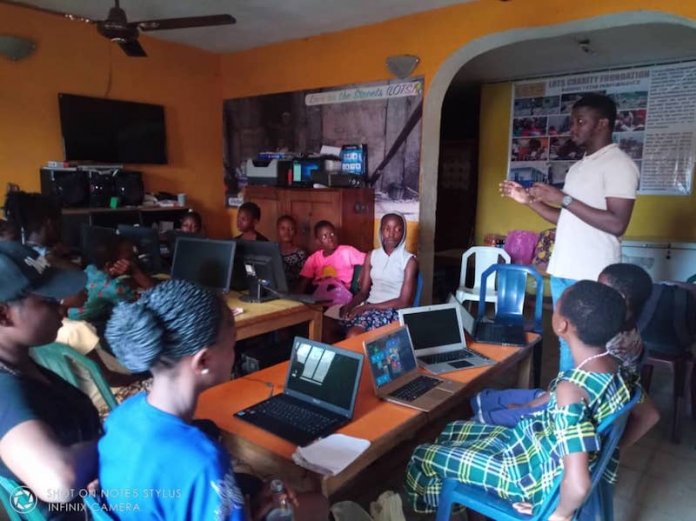 Philanthropic support is growing in significance as founders of non-governmental organisations and foundations explained to Funmi Ogundare their efforts to help vulnerable children, primarily from less privileged backgrounds, to find their feet in education
"Most of the children that we reached have never been to school all their lives. Imagine children who are 13 or 14 years old and have never been to school! We also observed that most of them miss school because of a book and a pen, so we consistently provide these materials for them so that they don't miss school.
"The result and impact have been fantastic because a child that could not read or express himself or herself can now do all of that. The results are part of the encouragement that we get to continue reaching out to the children to create a brighter future for them using education as a tool."
Dreams from the Slum is an Ajegunle-based NGO that takes children off the streets and into schools. It has done so for 5,000 children since 2013 according to the founder, Mr. Isaac Omoyele.
Dreams from the Slums is one of many NGOs working to enhance the lives of children from disadvantaged backgrounds. Education is their focus.
Their services have included ensuring that out-of-school children go back to school and learn, giving them daily meals to improve their performance in school, provision of boreholes and sanitary facilities, offering free literacy classes, mentorship and training, renovating and equipping toilets and sickbays to acceptable standards in public schools.
According to Omoyele, "we make the dreams of people to become a reality through education empowerment. We help out-of-school children to go back to school and ensure that they are learning. As it is, many children go to school without learning which affects their performance, so we try to provide daily meals and follow through."
He said it also runs a low-cost school, provides the children with scholarship, primary education materials, adding that some corporate bodies have been supporting the NGO.
On what motivated him to establish the organisation, the graduate of Human Kinetics and Health Education, University of Lagos said: "I started Dreams from the Slum based on a personal experience growing up in Ajegunle. As a child, I dropped out of school severally, not until when someone gave me a full academic scholarship. I observed that I was brilliant, but what affected me was that I went to school without breakfast and basic educational materials.
"Someone I didn't know gave me a full academic scholarship, so I said to myself that I would pay it forward. Since we started in 2013, our impact has been amazing. We have provided scholarship and educational material to the children so that they can be in school."
The Founder of Love on The Street (LOTS) Charity Foundation, Mr. Are Solomon said since 2009, the foundation has provided literacy classes and supported street and vulnerable children through feeding, provision of clothing and education materials.
"Since 2009, we have been working in a community called Dustbin Estate, Ajegunle. We run free literacy classes every day and also feed the children. Currently, because of COVID-19, we only have classes for those writing exams."
On its impact since inception, he said, "we have been providing academic support for them. For those that attend public schools, we do extra classes for them. We have awarded scholarship to those that are brilliant in primary and secondary schools to tertiary level."
The foundation currently assists 12 students through university and polytechnic and checks on them to ensure that they achieve success.
Love on The Street Foundation (LOTS) embarked on community projects. It provided boreholes and sanitary facilities as houses of their wards lacked these facilities. Other organisations collaborated with LOTS to install water systems.
"This will go a long way because we don't have adequate running water in the community. It will help them to stay clean," Solomon stated.
Asked his motivating factor for establishing LOTS Charity Foundation, he said: "Many children in Nigeria have issues with education before we decided to add the clothing and feeding initiative to it. Education is one of the things that children do not have access to in Nigeria. A lot of them are not going to school, and those who are going do not have educational materials.
"We have kids who because they don't get feeding allowances from home, don't want to go to school. A hungry child can never learn. These are some of the things that moved us to do what we are doing. We feel if we meet some of these basic needs, some of them will find it easy to study rather than roaming about or hawking when their mates are in school."
Mr. Daniel Akujobi established Daniel Ogechi Akujobi Memorial (DOAM) Foundation 13 years ago, in memory of his son who died in a car accident.
"DOAM Foundation has catered for, mentored and counselled over 26,000 children and youths in Nigeria through programmes capable of contributing and supporting the Sustainable Development Goals (SDGs) of providing and ensuring inclusive and equitable quality education. We also refurbish/construct and equip lavatories and sickbays to acceptable standards in public schools."
Akujobi said the foundation also supports the provision of timely intervention to victims of road accidents by establishing/equipping existing trauma response centres, with support from corporate organisations, to reduce mortality rate, adding that its impact so far has been tremendous.
Mrs. Betty Abah is the founder and Chief Executive Officer, Centre for Children's Health Education, Orientation and Protection (CEE HOPE), an advocacy group committed to girl-child education. She works with at-risk girls and other vulnerable children in slum communities in Nigeria, including the Makoko area of Yaba.
She has been empowering girls through scholarships, mentorship and training on ICT to enable them to succeed. At the beginning of every school year, CEE HOPE makes it a point of duty to visit different slum communities to award scholarships which cover their textbooks, notebooks, uniforms, shoes and class projects to the girls, as well as mentor them to greatness.
"I started CEE HOPE in 2013 to bring development and direction to millions of disillusioned and at-risk children and young persons, especially girls, and to continue to speak urgent truth to power on the state of Nigeria, to have a much more child-friendly country," she said.
Abah stated that the biggest threat to girl-child education is poverty and early marriage, adding that uneducated girls are vulnerable to sexual violence and lack the confidence that comes with getting an education and empowerment.
The founder described Makoko as the largest slum community in West Africa with over 300,000 inhabitants. "Thousands of children living there need help. CEE HOPE also works in Benue and Plateau States.
"One of our communities in Lagos is Monkey Village, a suburb in Ikeja, but unique and very much impoverished. We work with children there and we try to stretch our resources to help the girls in communities like this. There are so much ignorance and illiteracy."
This reporter met some of the beneficiaries of CEE HOPE's scholarships, mentorship, training and ICT programmes. They told THISDAY how the centre's effort impacted them positively.
Miss Oluwatosin Ayomikun, 16, is a student of Nawarudeen Senior High School, Fadeyi, who grew up in Makoko. She lost her mother when she was only nine months old while her father abandoned her. Her grandmother raised her but felt that after secondary school, she should either marry or learn a trade.
According to her, "she has done a lot in my life. Before now, I have no dream. I lost my mum when I was nine months old and my dad is nowhere. My grandmother has been the one taking care of me. I had always felt that after my SS3 examinations, I would not further my education. Since I have been on her scholarship, I have seen that without education, you are nothing, and a man cannot marry a woman without skills because he will believe that the woman should have something tangible to do."
Ayomikun aspires to learn a skill in hair styling, as well as to study Mass Communication and become a newscaster.
The scholarship for Miss Oluwatumininu Omosawe, a junior secondary three student of Onike Junior Secondary School, Yaba, covers her textbooks and notebooks, uniform and school bag. She is delighted about the initiative while advising the founder of the centre to keep up the excellent work.