– Coronavirus is really having its toll on Nigeria's economy
– The global pandemic has further shrunk the nation's economy by 6.10 per cent
– This rather disturbing news was given on Monday, August 24
PAY ATTENTION: Click "See First" under the "Following" tab to see Legit.ng News on your Facebook News Feed!
The Nigeria Bureau of Statistics (NBS) on Monday, August 24, gave a very gloomy report on the nation's economy amid the scourge of the coronavirus pandemic.
The NBS said that Nigeria's Gross Domestic Production dropped by 6.10 per cent in the second quarter of 2020.
According to the head of the NBS, Yemi Kale, the drop is a major setback compared to the 1.87 per cent recorded in the first quarter of the same year.
In retrospect, Kale recalled that while Oil GDP contracted by -6.63% (5.06% in Q1 2020; 5.15%% in Q2 2019), non-Oil GDP contracted -6.05% (1.55% in Q1 2020; 1.64% in Q2 2019).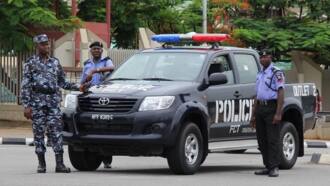 Before an officer searches you, search the officer first – Police give 14 tips on arrest
Meanwhile, Legit.ng reported that the World Bank had revealed two key factors that might plunge Nigeria into a severe economic recession the worst since the 1980s.
The two key factors were the crash in global oil prices and the ravaging coronavirus pandemic.
The World Bank in a statement titled Nigeria In Times of COVID-19: Laying Foundations for a Strong Recovery, estimated that Nigeria's economy would likely contract by 3.2% in 2020.
Despite the economic diversification rhetorics by the government, oil still represents more than 80% of Nigeria's exports and 50% of the overall government revenue.
Thus, as the oil prices dropped globally, the government revenue was expected to fall from an already low 8% of GDP in 2019 to a projected 5% in 2020.
On the positive side, Vice-President Yemi Osinbajo had on Thursday, June 11, pointed out that Nigeria could actually turn the situation into an economic victory.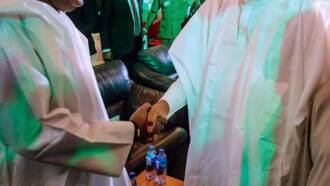 Buhari vs Atiku: What international media say about Nigeria's main presidential candidates
This vice president disclosed this at the State House in Abuja after presenting post-COVID-19 Economic Recovery Plan to President Muhammadu Buhari.
Osinbajo led the Economic Sustainability Committee to submit the report entitled, "Bouncing Back: The Nigerian Economic Sustainability Plan".
"We are confident that if the proposals are taken as a whole and implemented conscientiously, Nigeria will avert the worst of the impending economic headwinds, and convert this crisis to a victory for the Nigerian economy," he said.