– Ex-governor Ayodele Fayose has proved time and again that he is a man of the people
– As one always clamouring for stomach infrastructure, he has been spotted on several occasions patronising food vendors in public
– Fayose was recently spotted buying bread and according to him, he cannot stop relating with the people
PAY ATTENTION: Click "See First" under the "Following" tab to see Legit.ng News on your Facebook News Feed!
The former governor of Ekiti state, Ayodele Fayose, is in the news again, and this time it has nothing to do with politics or criticising the government.
They say "food is the ingredient that binds together" and Fayose has proved this time and again.
The former governor, known for his "stomach infrastructure", took time out of his busy schedule to patronise one Captain Cook at Fajuyi, Ado Ekiti.
Fayose shared the photos from his outing on his Twitter handle with the caption: "At Captain Cook, Fajuyi, Ado Ekiti to buy bread a few minutes ago. I can't stop relating with the people at whatever level."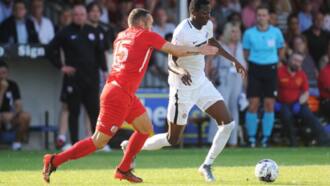 Nigerian striker scores 2 goals to help top European club stretch their unbeaten run to 9 games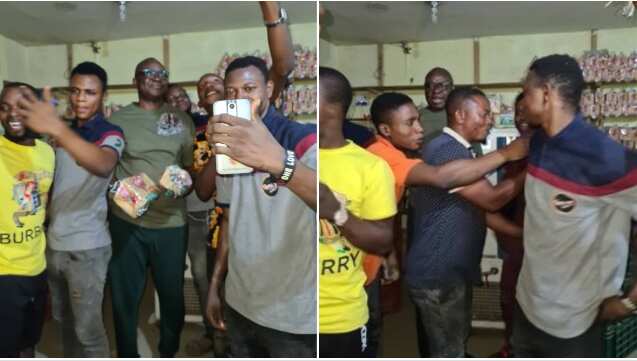 This is coming at a time the Nigerian government and the Nigerian Centre for Disease Control have been hammering on social distancing and wearing of face masks due to the ravaging COVID-19 pandemic.
In the photos, the former governor was surrounded by fans taking selfies. None of them had face masks on, neither was social distancing observed.
As usual, many thronged the comment section with their various opinions. Some pointed out that he was not wearing a face mask.See some of the reactions below:
@EarlierDman wrote: "Sir, You could've used this opportunity to educate the people on COVID-19, and the necessity to put on face masks for protection. Anyway, even you are not wearing it. Spread the love by saving lives."
@omotunde_torlu wrote: "You are not wearing a mask, Your Excellency. Good to see you again."
@onochbaba wrote: "You have been the same man since day 1, driving around without AC just to have a clear view of the environment. God bless the one and only oshokomole 1."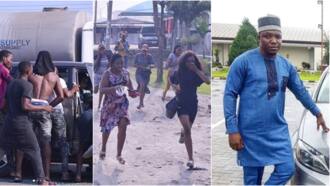 Xenophobia: Nigerians are worse than South Africans – Comedian Hyenana reacts to ongoing protest in Nigeria
@official_ibiam wrote: "Stomach infrastructure ex-governor. The man who gave the people ewedu and amala 30 naira and collected their billions. Kai, Ekiti people sha."
This won't come as a surprise to many Nigerians as the ex-governor is well known to be "a man of the people".
Fayose is a man who is not ashamed to come down to the level of the common man, as he mingles with the people of his state. On several occasions, he has been caught on camera doing what many in his position would not dare.
Sometime in 2016, he was spotted buying bread and beans close to the gate of St. Theresa's Nur/Pry School, Ikole Ekiti.
Fayose and his convoy were on their way to Oke-Ako Ekiti, where he was seen serving the food himself.
Nigeria Latest News: Federal High Court Grants Fayose Bail | Legit TV